COVID Cleanups/Sweeps
Re: COVID Cleanups/Sweeps
---
Sarah Iannarone wrote about this on Twitter this evening, see thread  
https://twitter.com/sarahforpdx/status/1287575962956095489
, copied below with my comments on thread also: 
sarah iannarone (she/her) @sarahforpdx - 7:20 PM · Jul 26, 2020

non-#portlandprotest call to action thread
On top of COVID-19 and a triple-digit heatwave, incumbent Mayor Ted Wheeler has decided this is the week to evict an encampment of unhoused Portlanders in St. Johns, dismantling and displacing a community of 75 or so residents.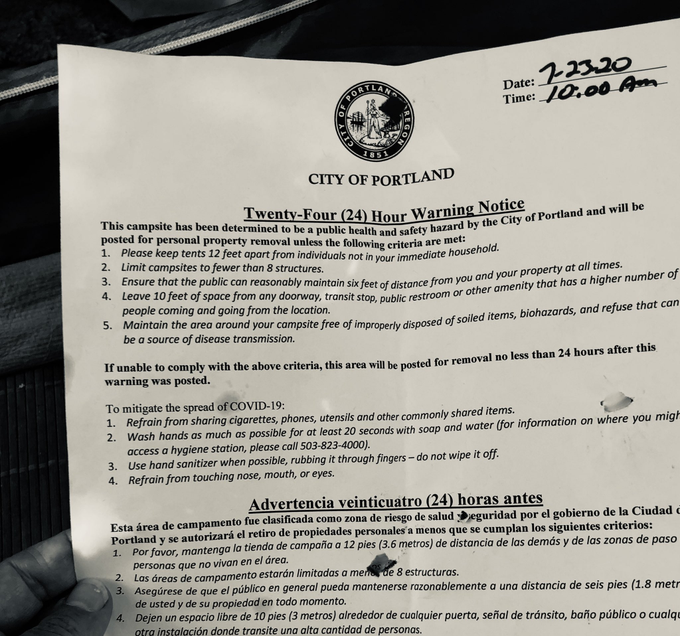 "For several years, Portland City Hall policy would be to uproot this camp as soon as it grew beyond a few people and scatter its residents to other places. But the city suspended such sweeps the first week of March, because of the COVID-19 pandemic."
Their specific ask: MONDAY 7/27/2020, Noon-2PM
Deliver COVID supplies (masks, sanitizer), heat-stable food, and WATER WATER WATER.
Volunteer to help bag up refuse, and generally tidy up in support of this community.
Help wherever you can.
https://www.streetroots.org/news/2020/07/25/houseless-face-imminent-heat-wave-fewer-resources
Please boost in St. Johns especially, post on FB or your other networks:
@ambrown @Reed_PDX @_RitaMoore @PaulRippey@mrlloydeo @ToolsyFielder @josambo @hrippey @TrevorSamRob @MimiGPDX @llake13 @Gus_Kroll @ThornCoyle @pdxlawgrrrl @StreetRoots @colemerkel @mkaiasand @JulesBoykoff



Replying to @sarahforpdx
 
it's clear the city/county does not, as for years, see a credible threat or alternative to sweeps & just moving people along. What might be?
a) is it plausible to human-wall off posted camp in time to block sweepers, so they delay it or have to force/arrest people?

Protest wall, or just completely solid wall of people merely enjoying the park/trailway?
Could targeted unhoused settlements be defended as extension sites of #PortlandProtest? What tracking / advance notice of sweepers might be achieved?  2/n
At sweep, how large a media spectacle could be created? could every affected person be followed up with to see what shelter is offered, taken? & how any on-site shelter, belongings, get handled? Also, can it be named to help it be defended, eg #PeninsulaVillage #PCTvillage? 3/n
Legal: how might " public safety" rationale be challenged, eg by ensuring good practices at camps? 2nd, recent  #BlakevGrantsPass ruling may help build case vs PDX structures ban, the other key sweeps basis. Design/find a test case? 4/n
That's threat side; at same time, how are plausible alternatives built, eg citywide, scale-of-need, rights-assured, self-determining villages? Many are working on this, at  @pdxshelterforum we're trying to make it & Qs above an open, collaborative effort+coalition; u r invited 5/5
--
Tim McCormick
Portland, Oregon 
toggle quoted message

Show quoted text
On Sun, Jul 26, 2020 at 9:22 PM Sean Green <
green@...
> wrote:
I think it is important to hear from folks with lived experience. The response to impending 

COVID cleanups/sweeps

from this member of our community is powerful. This person echos many of the sentiments I have heard from other folks who are just looking for a place to live where they won't be forced to leave.









Join pdxshelterforum@groups.io to automatically receive all group messages.