New ISS Repeater Input frequency
It's been reported over the last several days and I saw this just now myself, that the ISS repeater output is now at 145.500.  At 145.800 the offset of -600 was no problem here in Germany.  However, at 145.50 and a -600 offset (can anyone confirm this?) the input is in a range that's supposed to be reserved for digital modes.

I've seen nothing official about a change and was wondering if anyone in the group has any more info.

73
Scott K4KDR reports successful contacts on 437.050 67.0 UPlink, 145.500 DOWNlink.




ARISS-Russia delegate Sergey Samburov RV3DR and Frank Bauer KA3HDO report:

ARISS-Russia, in collaboration with the Southwest State University in Kursk, Russia, are developing a series of educational CubeSat satellites called Tanusha. Two Tanusha CubeSats were developed by students at Southwest State University and were hand-deployed by cosmonauts during an August 2017 extravehicular activity. These two CubeSats are performing cluster flight experiments through communications links. A second set of CubeSats, Tanusha 3 & 4 were launched earlier this year and are currently on-board ISS. Tanusha 3 & 4 are planned to be hand deployed by Cosmonauts in August.  They will perform even more comprehensive cluster flight objectives than Tanusha 1 & 2.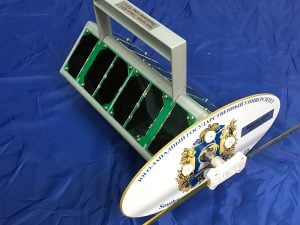 On June 20, Tanusha 3 will be connected to one of the ARISS Service Module antennas and will transmit from 0730-1200 UTC on 437.05 MHz.  These FM transmissions will include greetings from students in several languages, including Russian, English, Spanish and Chinese.  On June 21, Tanusha 4 will be connected to one of the ARISS Service Module antennas and will transmit from 0730-1200 UTC on the same frequency:  437.05 MHz.  The ARISS-Russia team plan to also retransmit these signals on the standard ARISS 2-meter downlink, 145.80 MHz using the JVC Kenwood D700 radio that is still on-board ISS.  All are invited to listen to the CubeSats from ISS on 437.05 and/or 145.80 MHz.
The next SSTV image downlinks are planned for June 29-July 1.  These images will commemorate the various satellites that the ARISS team has developed and hand-deployed from the ISS.  These will include the first satellite deployment from ISS:  SuitSat-1/Radioskaf-1 which was deployed in February 2006.  More details on this will be forthcoming as the date draws near.
/end/
Good to know, tks  Clint.
That frequency  of 437.050 is well in the recommended satellite frequencies for Germany.  Although 437.00 is suggested for DATV, but I don't expect any real issue here.
Already have it plugged in for download to my VX-8R.  My VX-7 memory list is being rebuilt from scratch.  Never really liked what I had programmed in so decided to start back from scratch.
73
Floyd WD8DUP/DA1VF
Sent from Mail for Windows 10
ARISS does not want us using that pair for FM voice repeating. It was 
a problem with the Russians' test of the Tanusha birds that went, well, 
wrong.