Re: Another good handle for an Arrow antenna
Randy Schulze
This is what I had for my first PC:  The COMPAQ Lugable!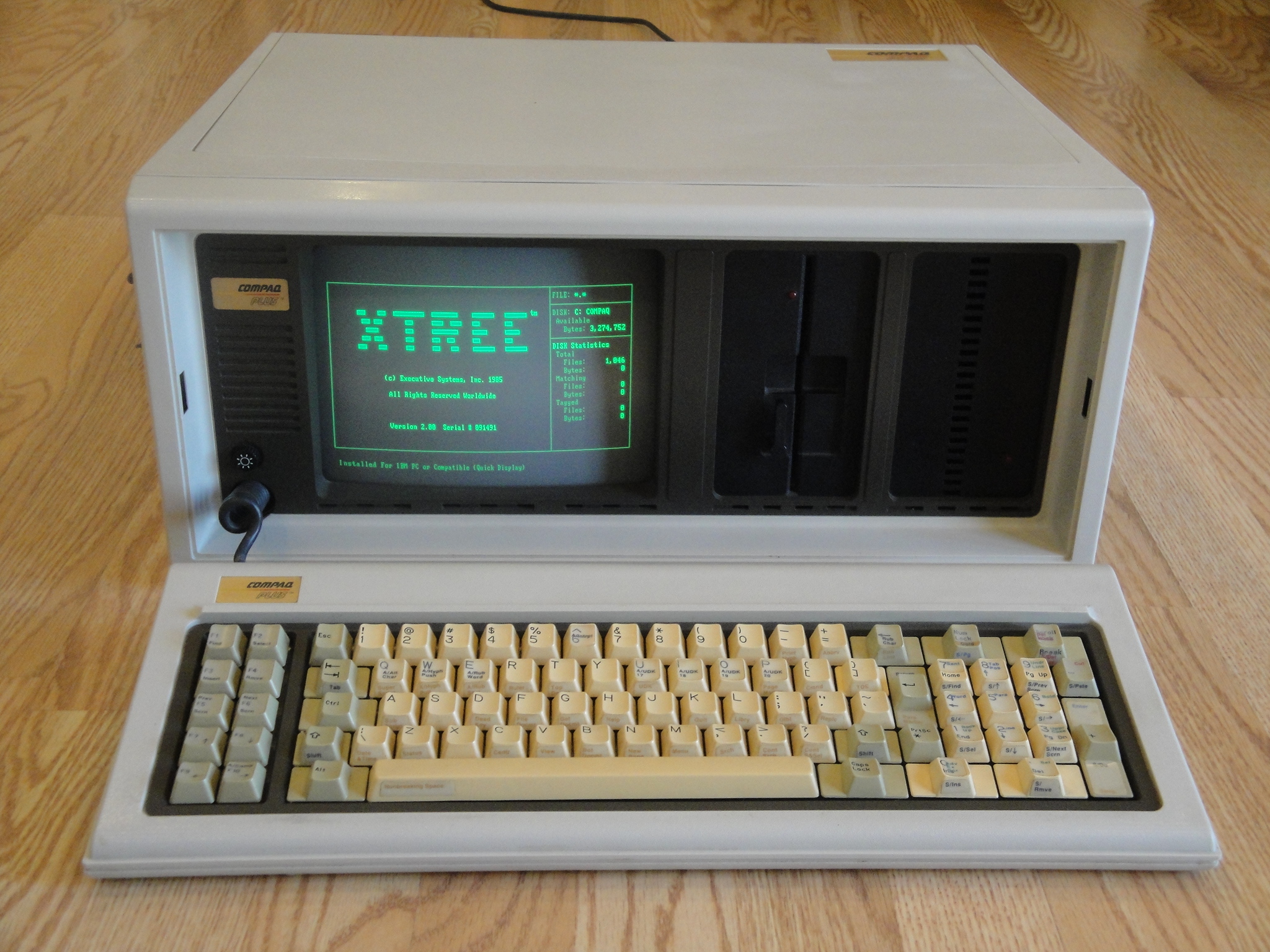 This one pictured here is not one of my actual computers, but I still own two of them!  This was the grand-father to the laptop, and was the subject of the ground breaking law suite between COMPAQ and IBM which broke the monopoly on companies other than IBM being allowed to manufacture and sell PC computers with the Intel 8088 chip set and it's successors.  PC, (Personal Computer,) was after all, an IBM brand name.

These came with a 10 Mb Hard Drive, and a 5.25 Inch Floppy Drive.  Both of mine had the "Expansion Board" which included more memory and a Serial / COM Port.  The memory consisted of several rows of 64 bit IC chips, (Remember the Commodore 64?  It used one of these same chips,) any of which would blow on occasion, causing a parity error at boot.  I would keep a medicine bottle containing extra chips to make repairs when this happened.  I networked the two computers together via the COM Port and a Null Modem Cable.  This allowed not only file sharing and messaging, but also allowed me to execute programs from one machine or the other.
The screen on this example is showing XTREE.  This application, and it's successor, XTREE Gold was the world's BEST DOS utility.  You could run it from the hard drive, or from a floppy disk.  Before the start of my IT career, and for the first few years as an IT Professional, XTREE was the most commonly used tool in my bag of tricks.  I used it well into the Windows 95 era.
Randy Schulze
KDØHKD
Kansas City, Missouri
toggle quoted message

Show quoted text
On 7/9/2018 11:29 AM, Siegfried Jackstien wrote:

use the double sided tape that is used for mounting mirrors in the bathroom (with the small foam layer in between)


that sticks very good and has some flexiness

dg9bfc sigi



Am 08.07.2018 um 23:58 schrieb David Spoelstra:


Yeah, I was already planning to put one there. The double sided tape is a great idea. Thanks!




On Sun, Jul 8, 2018 at 7:49 PM Clint Bradford via Groups.Io <clintbradford=

mac.com@groups.io

> wrote:

Use some really good double-sided adhesive tape, and consider an additional Zip tie on the inside of the grip - right at where 
the arrow (pun intended) is pointing.

Clint