Note: groups.io will be down for maintenance this evening, starting at 2AM Pacific Time (9AM Friday 10/17/2019 UTC), for up to two hours.
It's World Amateur Radio Day
toggle quoted message

Show quoted text
---
From:
ARRL Web site <memberlist@...>
Sent:
Thursday, April 18, 2019 7:28:30 AM
To:
jloz34@...
Subject:
It's World Amateur Radio Day
Get a Free ARRL Globe Sticker AND Decal with Every Order TODAY only!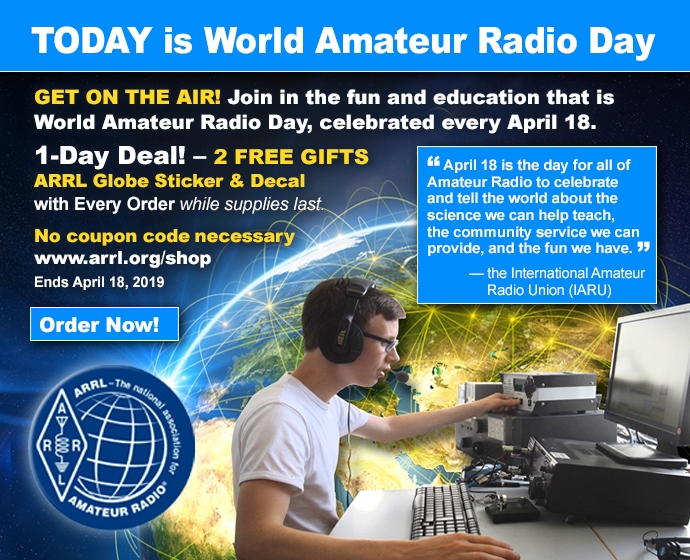 ---

ABOUT THE OFFER
In celebration of World Amateur Radio Day, get a free ARRL Globe Sticker and Decal with every order placed online at www.arrl.org/shop on April 18, no coupon code necessary. Does not apply to ARRL membership, subscriptions, awards or merchandise from ARRL partners. Retail orders from ARRL only. Valid Thursday, April 18, 2019. While supplies last.

ORDERING
To order use the links in this message to visit ARRL's secure online catalog. Or, call our Publication Team toll-free in the US 1-888-277-5289, Monday through Friday 8 AM to 5 PM Eastern time [Outside US telephone (860) 594-0355]. ARRL publications are also available from your local ARRL dealer.

ABOUT THIS E-MAIL
Participation in ARRL special publication announcements is voluntary. If you have an ARRL website user account, you can manage all of your e-mail preferences at www.arrl.org/myarrl.