Re: KIT LPF WITH THE 5 RELAYS
---
In the standard configuration described in the assembly manual, the LPF kit inserted on the right (in position 1) is ALWAYS in-circuit and should be the filter for the highest frequency band installed. However, this is not suitable for when you wish to use the kit to switch band pass filters Or, LPFs without going through position 1 every time.
To switch band pass filters, use the jumper configuration shown below. 
Note that the output SMA connector(s) on the right side of the board are connected permanently to the final (position 1) filter output. Therefore you cannot use them as the output, when using the board for Band Pass filter kit switching. In this case you should take the RF output from the connections circled in yellow, in the diagram. The RF input is the RFI pin of the 2 x 5-pin header on the left of the board (same as in the Low Pass Filter kit usage). An alternative is to cut the track from the SMA connector center pins and add a wire to connect it to the common bus track that runs horizontally across the board, finishing at the "RF" pad circled in yellow.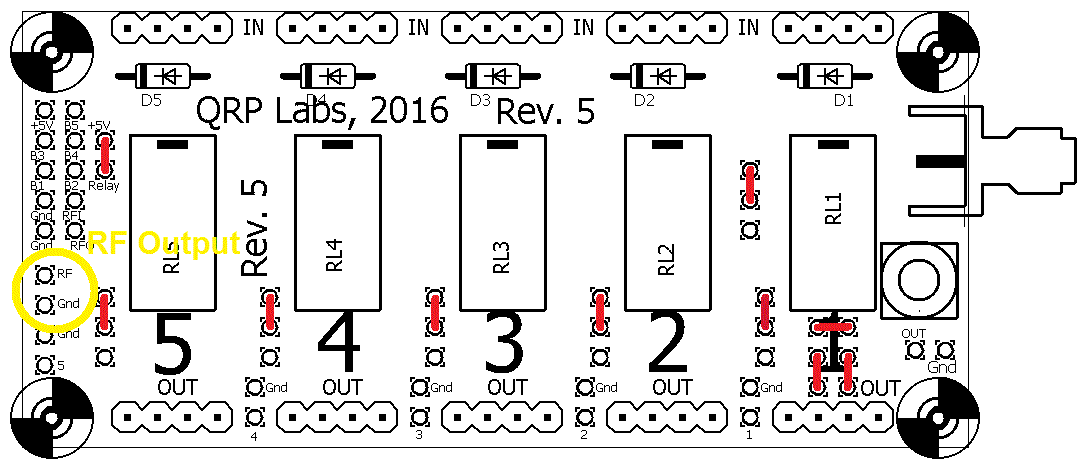 Join QRPLabs@groups.io to automatically receive all group messages.