Broad-billed Hummingbird seen at The Sea Ranch, Sonoma County Fw: Mendonoma Sightings
---
jackson_us
10/2 and 10/3 in Sonoma County.
Just a few miles from the Mendocino County border this Broad-billed Hummingbird was seen and photographed. I thought you might enjoy seeing it and keeping an eye out for it. The sound this hummer makes is quite different from the ones we see and hear. I have a link below if you'd like to listen to it.
Jeanne Jackson, Anchor Bay
toggle quoted message

Show quoted text
From: Mendonoma Sightings
Sent: Saturday, October 10, 2020 4:16 PM
To: jackson2@...
Subject: Mendonoma Sightings
---
A Broad-billed Hummingbird paid a rare visit to the Mendonoma Coast.
Posted: 09 Oct 2020 04:41 PM PDT
A beautiful hummingbird was seen on October 2 and 3 at The Sea Ranch. John Batchelder's daughter, Marianne, was the first to see it and identify it.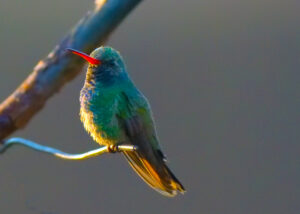 Diane Hichwa wrote, "There is a rare bird staying for a few days at Sea Ranch - a Broad-billed Hummingbird. It has been seen on two other occasions in Sonoma County.  It SHOULD be in Arizona, New Mexico and Mexico, but not here. But it is."
Several other photographers got wonderful photos of the colorful hummer, including Craig Tooley.  Craig wrote, "It is spectacular. Also, it makes a very different sound than our local Hummers." Here is a link to hear their calls, which are quite different! https://www.allaboutbirds.org/guide/Broad-billed_Hummingbird/sounds
Karen Wilkinson also photographed the beautiful hummingbird.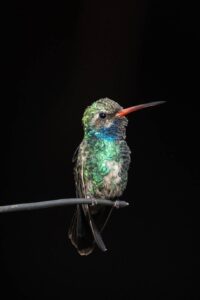 Why this little bird was so far from its normal territory is a puzzle, but we know how to appreciate beauty when we see it. Welcome to the Mendonoma Coast, little hummer!
Thanks to John, Craig and Karen for allowing me to share their photos with you here.
We are having a oh-so-lovely autumn day today. Perhaps a little rain tomorrow, please rain gods and goddesses!
You are subscribed to email updates from Mendonoma Sightings.
To stop receiving these emails, you may unsubscribe now.
Email delivery powered by Google
Google, 1600 Amphitheatre Parkway, Mountain View, CA 94043, United States