ACM TELO Open for Submissions
---
---------- Forwarded message ---------
From:
Juergen Branke and Darrell Whitley, ACM TELO Co-Editors-in-Chief
<pubs@...>
Date: Tue, Apr 28, 2020 at 7:01 PM
Subject: ACM TELO Open for Submissions
To: <
w.langdon@...
>

OPEN FOR SUBMISSIONS

ACM Transactions on Evolutionary
Learning and Optimization

Forthcoming new journal
Co-Editors-in-Chief
---
Aims and Scope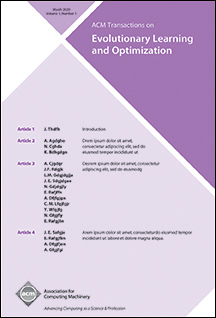 ACM Transactions on Evolutionary Learning and Optimization
(TELO) will publish high-quality, original papers in all areas of evolutionary computation and related areas such as population-based methods, Bayesian optimization, or swarm intelligence.
We welcome papers that make solid contributions to theory, method and applications. Relevant domains include continuous, combinatorial or multi-objective optimization. Applications of interest include but are not limited to logistics, scheduling, healthcare, games, robotics, software engineering, feature selection, clustering as well as the open-ended evolution of complex systems.
We are particularly interested in papers at the intersection of optimization and machine learning, such as the use of evolutionary optimization for tuning and configuring machine learning algorithms, machine learning to support and configure evolutionary optimization, and hybrids of evolutionary algorithms with other optimization and machine learning techniques.
All submissions will go through a rigorous double-blind review process. Authors may additionally submit their code and apply for an ACM reproducibility badge:
www.acm.org/publications/policies/artifact-review-badging
.
For questions please contact:
telo-editors@...
.
For further information and to submit your manuscript please visit
telo.acm.org
.
Advisory Board
Holger Hoos, University of Leiden, Netherlands
Risto Miikkulainen, University of Texas at Austin and Cognizant, USA
Area Editors
Dirk Arnold, Dalhousie University, Canada
Thomas Bäck, University of Leiden, Netherlands
Carlos Coello Coello, Cinvenstav-IPN, Mexico
Una-May O'Reilly, Massachusetts Institute of Technology, USA
Luis Paquete (Reproducibility), University of Coimbra, Portugal
Kenneth Stanley, University of Central Florida and Uber AI Labs, USA
Associate Editors
Hernan Aguirre, Shinshu University, Japan
Youhei Akimoto, University of Tsukuba, Japan
Enrique Alba, University of Malaga, Spain
Anne Auger, Inria and Institut Polytechnique de Paris, France
Wolfgang Banzhaf, Michigan State University, USA
Thomas Bartz-Beielstein, TH Koeln, Germany
Christian Blum, Spanish National Research Council, Spain
Josh Bongard, University of Vermont, USA
Dimo Brockhoff, Inria and Institut Polytechnique de Paris, France
Will Browne, Victoria University Wellington, New Zealand
Francisco Chicano, University of Malaga, Spain
Carola Doerr, Sorbonne University, France
Jonathan Fieldsend, University of Exeter, UK
Stephanie Forrest, Arizona State University, USA
Nikolaus Hansen, Inria and Institut Polytechnique de Paris, France
Emma Hart, Napier University Edinburgh, UK
Thomas Jansen, Aberystwyth University, UK
Bill Langdon, University College London,UK
Manuel Lopez-Ibanez, University of Manchester, UK
Jose A Lozano, Basque Center for Applied Math, Spain
Jean-Baptiste Mouret, Inria Nancy, France
Frank Neumann, The University of Adelaide, Australia
Gabriela Ochoa, University of Stirling, UK
Michael O'Neill, University College Dublin, Ireland
Guenter Raidl, Technische Universitat Wien, Austria
Tapabrata Ray, University of New South Wales, Australia
Franz Rothlauf, University of Mainz, Germany
Günter Rudolph, TU Dortmund University, Germany
Federica Sarro, University College London, UK
Marc Schoenauer, Inria and Université Paris-Saclay, France
Michèle Sebag, CNRS and Université Paris Sud, France
Sara Silva, University of Lisbon, Portugal
Lee Spector, Hampshire College, USA
Kay Chen Tan, City University of Hong Kong, Hong Kong
Heike Trautmann, University of Muenster, Germany
Tea Tusar, Jozef Stefan Institute, Slovenia
Leonardo Vanneschi, Universidade Nova de Lisboa, Portugal
Bing Xue, Victoria University Wellington, New Zealand
Mengjie Zhang, Victoria University Wellington, New Zealand
---
UNSUBSCRIBE
to stop receiving emails about publishing in ACM journals.
Association for Computing Machinery, 1601 Broadway, 10th Floor, New York, NY 10019, USA
Copyright 2019, ACM, Inc.
Join GeneticProgramming@groups.io to automatically receive all group messages.