Cape May County SKYWARN Spotters CMCSPOTTERS@groups.io


Welcome to Cape May County New Jersey SKYWARN ® Severe Weather Operations Group NJ Region


MEMBERSHIP IN THIS GROUP

Membership in this group is RESTRICTED and generally is accomplished by invitation. The group is under strict spam and content
control.
IMPORTANT: You do not have to be an amateur radio operator to be a SKYWARN Spotter !

If you have an interest in SKYWARN here in Cape May County please send an email to CMCSPOTTERS+owner@groups.io and identify
yourself by name, email and location (address) and include a spotter ID and amateur radio call sign if you have one. Please briefly
describe your interest in our group. Thank you - group owner CMCSPOTTERS+owner@groups.io

NWS WEATHER LINK
http://www.weather.gov/PHI

HOW TO BECOME A SPOTTER
http://www.weather.gov/phi/skywarn

OUR FACEBOOK PAGE
http://www.facebook.com/CapeMayCountySkywarn
LINKS TO MY WEATHER STATION IN Green Creek NJ 08219

https://www.wunderground.com/dashboard/pws/KNJCAPEM60
https://smartweather.weatherflow.com/map/14611/39.0952/-74.9595/10


ABOUT SKYWARN

Hello, I am Bill Aber, my amateur radio call sign is N2JAI, Cape May County SKYWARN Coordinator and Chief NCS for Severe Weather Nets.
SKYWARN Spotter Pete Fawcett KX2CMC is our primary NCS for are weekly nets on amateur radio frequency 146.610 Mhz -.600 PL 88.5
The Call sign for our amateur radio weather nets is WX2CMC and the license trustee is Bob Myers KB2DHK Deputy Coordinator.

"It is through training that the NWS teaches interested volunteer SKYWARN SPOTTERS to be safe, effective and accurate
weather spotters who provide them with the needed ground truth spotter observations"

The National Weather Service Forecast Office in Mount Holly NJ (NWSFO PHI/Mt.Holly) is the parent command of Cape May County SKYWARN ®.

Working closely with the NWS, Public Safety, Emergency Management, ARRL ARES and OEM RACES ( OEM RACES/ARES LINK ) entities is a hallmark of the SKYWARN program. Many folks from these entities are SKYWARN Storm Spotters and participate in our local SKYWARN program here in Cape May County New Jersey.

SKYWARN, founded in the early 1970's is made up of a group of trained, dedicated amateur weather enthusiast who work in conjunction with the National Weather Service by observing and reporting adverse weather conditions to promote public safety and minimize property damage. With the advent of Doppler Radar, and other technologies, the art and science of weather forecasting has made great strides, but even with all the technology, the National Weather Service still is in need of 'ground truth' observers. It is through training that the NWS teaches interested volunteers to be safe, effective and accurate weather spotters who provide them with the needed ground truths.
SKYWARN SPOTTERS are placed on stand-by when a severe weather watch is posted by the National Weather Service. Once that watch is upgraded to a warning, SKYWARN becomes activated and spotters are asked to make severe weather observations. After making an observation that is reportable, there are several ways to relay the information to the National Weather Forecast Office which include: telephone, amateur radio, and an online storm report form. Some of the reports are used to send out statements, warnings and short-term forecasts to the public via the media. The reports also go into "Storm Data", which is a publication that documents severe weather across the country and can be used to create a severe weather climatology database of a specific county, city or region of the country.
SPOTTERS NEED TO KNOW !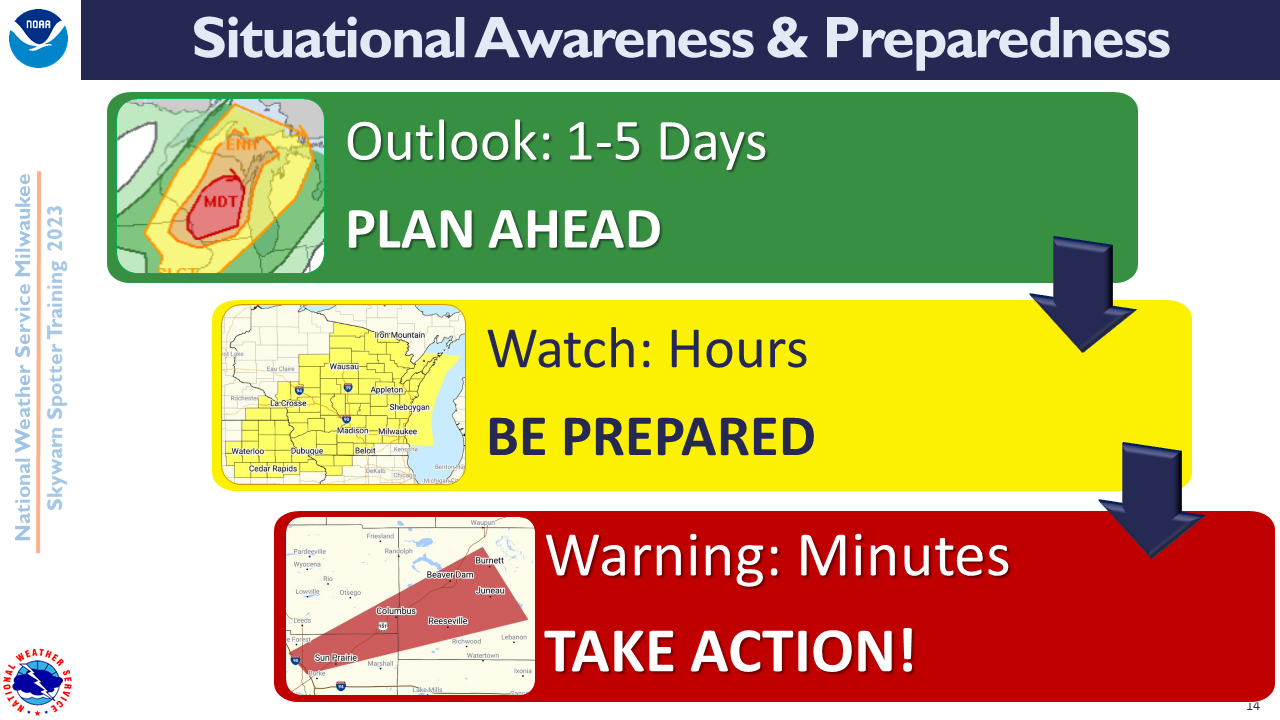 FIND OUT MORE THROUGH TRAINING LINK BELOW FOR SCHEDULED TRAINING
http://www.weather.gov/phi/classes




LINK TO VISIBLE SAT IMAGE DAYTIME: DAY SATELLITE IMAGE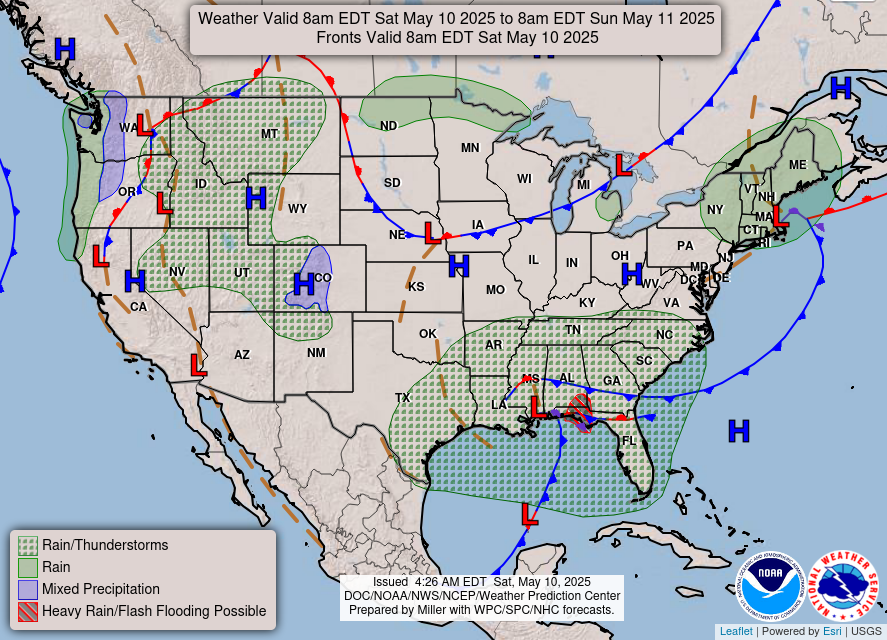 ATTENTION CLICK THIS LINK FOR CURRENT MAP High Resolution Version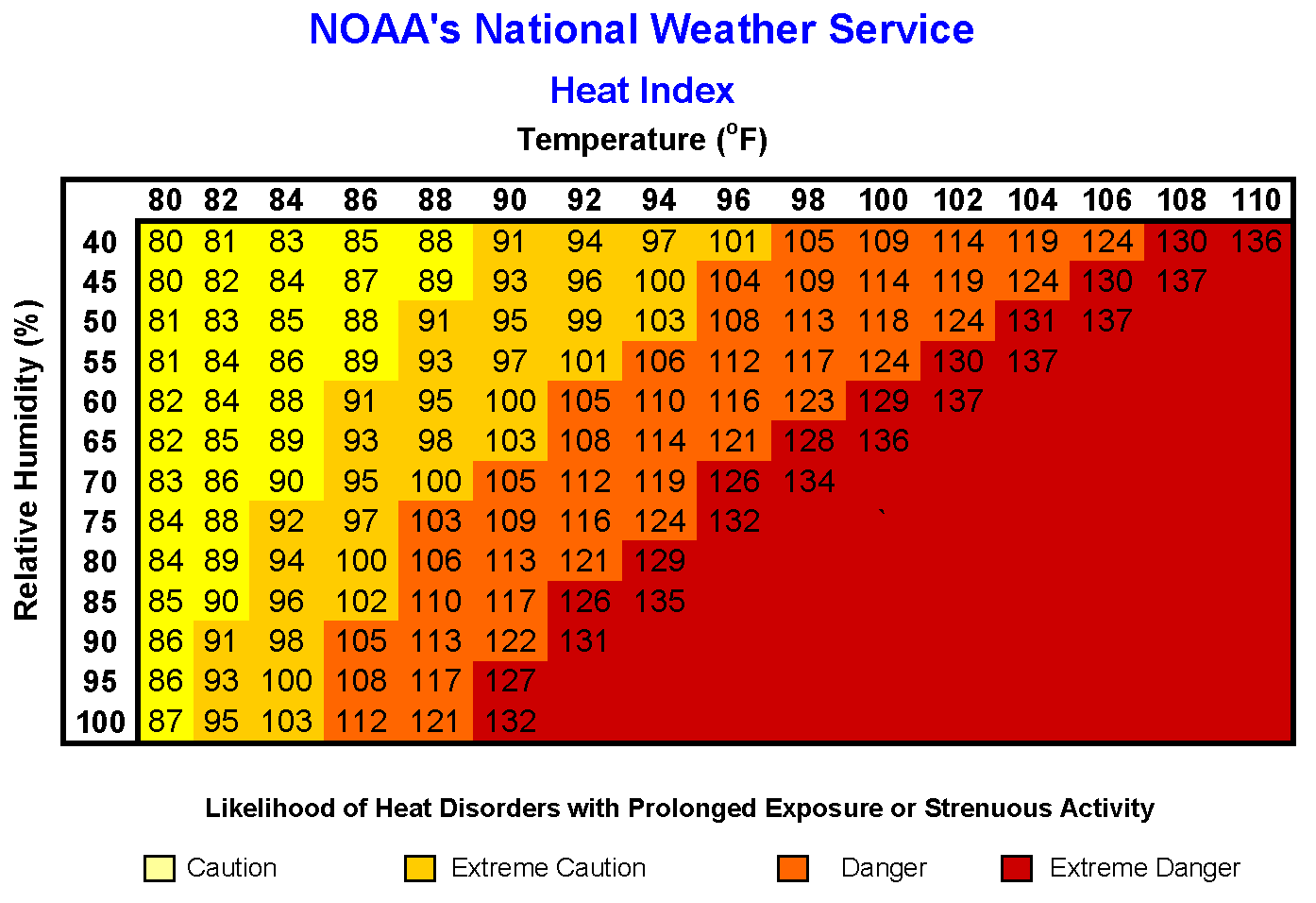 EF Scale: The Enhanced Fujita Scale classifies tornadoes into the
following categories:


" Ground Truth " Severe Weather Observations are based on the following criteria:
Spotters are encouraged to report the following phenomena, if it is safe to do so !


REPORTING CRITERIA:
Flooding

Winter Weather

Tornado
Funnel Cloud
Wall Cloud
Persistent Rotation

Flooding that results in evacuations
Water rescues: cars, roofs, or trees
Water Rapidly rising, or entering homes, not just basements

Roads Impassable or closed due to high water
Small Streams or rivers overflowing their banks

Moderate coastal flooding, not just nuisance inundation

1" Snow in 24 hours
1" Snow in past hour
Freezing Rain/Drizzle
Any Ice Accumulation

Thunderstorms

Miscellaneous

Tree uprooted or downed
> 1 large limb downed
Power lines downed
Hail (any size)

Rain > 1" in past hour
Winds > 40 MPH
Damage to Structures
Tsunami

Any injuries or deaths that are weather related

PER NWS,
"SPOTTER INFORMATION STATEMENT...

WEATHER SPOTTERS ARE ENCOURAGED TO REPORT SIGNIFICANT WEATHER
CONDITIONS ACCORDING TO STANDARD OPERATING PROCEDURES."
SKYWARN ® and the SKYWARN ® logo are registered trademarks of the National Oceanic and Atmospheric Administration, used with permission.







Amateur Radio Weather Nets:

Cape May County Amateur Radio Severe Weather Nets are conducted by the
Cape May County SKYWARN ® Net Control Station using call sign WX2CMC
on the following frequencies:

Primary frequency: 146.610 MHz -.600 PL 88.5 **** MONITOR****
Secondary frequency: 144.330 MHz Simplex PL ENCODE is 203.5

Repeater resource made available to WX2CMC SKYWARN ® are:

Cape May County Amateur Radio Club N2CMC
146.610 MHz, Neg PL 88.5 -.600 offset (CMCH NJ 08210)
SKYWARN Thanks N2CMC and the CMCARC for use of the repeater.

PLEASE JOIN Cape May County Weekly SKYWARN Net at 7:30 PM EACH MONDAY EVENING.

During the Monday Night nets the following information is collected from the Spotters by the primary and sub net NCS's.
Below is the order it should be given in- left to right.

Time Call Sign Spotter ID Name Location Temperature Wind Speed Wind/Gust Direction Type of Precipitation Precip @0700 Current Precip Sky Cover Barometric Pressure Comments





NOAA WEATHER RADIO ALL HAZARDS



http://www.nws.noaa.gov/nwr/
Atlantic City, NJ: 162.40 MHz
Lewes, DE: 162.55 MHz
Cape May County SAMES CODE is: 034009
Link to NJ SAMES CODES: http://www.nws.noaa.gov/nwr/coverage/ccov.php?State=NJ
PLEASE INVEST IN OWNING AND USING A NOAA WEATHER RADIO ALL HAZARDS


PLEASE ACCESS THE FOLLOWING LINKS BELOW FOR CURRENT LOCAL INFORMATION

* Current Hazardous Weather OUTLOOK LINK - Click on me
Current Briefing Package PDF Format

Zone 23 Detailed Forecast for Cape May County
Zone 24 Detailed forecast for Atlantic Coastal Cape May
AFD Area Forecast Discussion
CURRENT LOCAL HURRICANE STATEMENT NWS Mt. Holly - CLICK on me
Storm Prediction Center
Weather Prediction Center
UPDATED HURRICANE LINKS 4-16-2018
National Hurricane Center:
Atlantic Tropical Weather Discussion:

http://www.nhc.noaa.gov/aboutnhcgraphics.shtml#GTWO
Saffir-Simpson Hurricane Wind Scale:
http://www.nhc.noaa.gov/aboutsshws.php
Definition of NHC Track Forecast Cone:
http://www.nhc.noaa.gov/aboutcone.shtml
National Hurricane Preparedness Week:
http://www.weather.gov/wrn/hurricane-preparedness
National Hurricane Center Facebook page:
http://www.facebook.com/NWSNHC
National Hurricane Center Twitter page:
Besides our email group Cape May County SKYWARN is on FACEBOOK and TWITTER (

NOT REAL TIME !

)

POINT OF CONTACT FOR CAPE MAY Co. SKYWARN ® NJ Region

SKYWARN ® Coordinator Cape May Co. NJ Region
Bill Aber N2JAI Coordinator/Chief NCS
baber1@comcast.net
PO Box 258 Green Creek NJ 08219
144.330 Mhz Simplex and
N2CMC Repeater 146.610 -.600 PL88.5


LINK TO THIS PAGE

https://groups.io/g/CMCSPOTTERS
Please BOOKMARK the above link.

WX2CMC SKYWARN Amateur Radio Net Staff:

Bill Aber N2JAI Coordinator/Chief NCS
Bob Myers KB2DHK Trustee WX2CMC
Pete Fawcett KX2CMC Primary NCS for WX2CMC
Harry Ciabitino KB2NMH Net West
John Deuter K2SEV Net North

Thank you for your visit.


weather cape may cape may county #NJWX skywarn n2cmc wx2cmc emergency management weather nws nwsfo south jersey weather amateur radio club ares races arrl storm chasing severe wx
New Jersey NJ New Jersey Weather NWS Philadelphia Mt. Holly RACES ARES OEM CMCEMCC NJSP storms thunderstorm amateur radio ham radio spotting hurricane tornado radar cmcarc #njwx #wxnj #capemay #n2jai #wx2cmc #SKYWARN #skywarn #cmcsp #billaber #spotter #stormspotter #skywarnspotter #thunderstorm #hurricane #blizzard #hail #winterstorm #tropical storm #weather amateur radio ham radio hobby radio meteorologist flood cape may court house green creek avalon ocean city woodbine seaville sea isle city wildwood crest

Group Information
63 Members
2,724 Topics, Last Post:
Started on
Group Email Addresses
Group Settings
All members can post to the group.
Posts to this group do not require approval from the moderators.
Messages are set to reply to sender.
Subscriptions to this group require approval from the moderators.
Archive is visible to members only.
Wiki is visible to members only.
Only moderators can create hashtags.
Members can edit their messages.