---
---
Ted
Evan,
The CAT setting that's often spoken of is that for the FT-817; you're using the FT857 settings?  Is there an advantage?  Not that I care ;)  just interested in the options.  I'll obviously have to plug it in and try.
Belthur [I don't have your proper name, sorry],
With the CAT control, you won't of course need to worry about rig keying, vis a vis PTT as we sometimes do in these cases. You may wish to attenuate the radio audio output that goes to your computer sound card or US$7 dongle of which Evan speaks.  An easy attenuation is a 100-ohm resistor across the shield and center of the headphone output, and a 5k to 10k resistor in line with the center as it proceeds toward the laptop input or dongle input.  This is off the top of my head, and other sources show something like this:
From experience, it wouldn't hurt one bit to place a
600-ohm to 600-ohm isolation transformer
in line with the Line Out side of that, and I would be heavily tempted to put a 10k potentiometer on the Line Out side of that diagram as well, and then into the transformer; failing a trim pot on the line out, I'd still go for a 100-ohm for R2 above since you're delivering to Microphone levels, NOT line level.
The times I've made up stuff like this, I've done well to make up the same arrangement for the opposite direction for the computer speaker output toward the radio mic input, while following Evan's advice about plug contact-wiring of course.  
Another source for the transformers,
here
.
-Ted
 K3RTA
---
Re: R could use some helpe: uBITX v5 CW issue
Hi Evan
That setting fixed the issue. By default it was set to Iambic A. I set it Hand and that fixed it. 2 Other questions in your opinion what is the best setting for the CW tone and is there  User Guide that anyone has put together for the uBITX v5?

Thanks Again guys for all your help

Bob KA3VWT 
---
Bob Bennett
It will re-acquaint you with the Smith Chart, something you have always wanted :-) I got one because it measures VHF/UHF SWR. I have other SWR meters for HF. I will learn about +/-j and Smith charts now that I have one

Bob nz2z

--
Bob
NZ2Z
---
Out of curiosity I went back and checked my stock v5 and found that the CAT software is included.  The same settings work as the original post.  So you do not need the KD8CEC software to run CAT.

73
Evan
AC9TU
---
First off, I do not have a v6.  I HAVE worked FT8 with both the v4 and v5 uBITX.

The jacks are the same for the v4, v5, and v6.  All are TRS (Tip Ring Sleeve) NOT TRRS that is standard for a laptop or cell phone headphones with microphones.  A TR only would short out the PTT on the mic input and the audio out of the headphone jacks.  DO NOT use tip and ring only (TR) plugs with the uBITX.

The way that I connect for FT8 is with a cheap USB sound card dongle to split the mic and speakers into two separate TRS jacks.  This makes it easier to wire as I have had issues with laptops not recognizing the mic input at the laptop jack.  I also use an EasyDigi kit to isolate grounds, though some have reported not needing it.  Since the headphone jack on the uBITX has both tip and ring connected to audio out of the rig, you do not need a special cable for the rig headphone connection to the PC (laptop) dongle mic input.  A standard 3.5 mm TRS on both ends works.  Not so for the mic input on the rig,  Here the sleeve is the PTT connection, so need to connect only the tip to tip and sleeve to the sleeve of the other cable (you do not need both channels of the stereo signal).  You need to have the ring of the microphone cable unconnected on the rig side. One last point, I have added clamp-on ferrites to all lines to and from the rig.  This is to reduce any RF issues in the shack causing distortion or erratic operation.

I am using KD8CEC software for CAT control.  That is how the PTT is activated.  In WSJT-X I have the comport set to the one that shows up when I plug in the USB cable to the uBITX Nano.  Radio selected is Yeasu FT-857, Baud for KD8CEC software is 38400, 8 bits, 2 stop bits, none for handshaking.  PTT is CAT Mode is USB.  Split operation is set to none.

The biggest issue that I have is the sensitivity of the volume control of the uBITX.  I have to run it with very little volume or I get the RED bar on the left of the FT8 window signaling input overload.  I also run the transmit level low, adjusting the power out measured with a Nissei SWR/Power meter to be the same power as CW (do not know of a better way to verify that I am not overdriving the audio).

Hope the above helps.  I would be interested in any experience with the v6 software, as I believe that cat control is included with the stock software.

73
Evan
AC9TU
---
vu3gwn
Hey Ted,

Guess I was wrong about K8DCEC...since I don't have a Nextion display yet, haven't tried that yet...so let's see what the future holds...

With respect to FT8, my current setup is CAT connected to USB of the laptop. Audio out of uBitx goes to mic of the laptop and PTT key goes to the Speaker out of the laptop.

Unfortunately all I have are basic aux cables with TRS plugs, don't have any TS cables and I think I need TS for this work. With the lockdown, I can't buy nor I can make one for lack of materials.

So with this setup, I am able to do decode FT8. And in Configuration, I can't make WSJT-x work with uBitx. "Test Cat" button fails and so TEST PTT never gets enabled.

Read somewhere that the cable for PTT in into uBitx must be cable with only TS and not TRS...

If you have don'e something on this, please do share.
---
Herman Scheper <Hsrscheper@...>
Do it Rene. They are not very expensive. You need some time to learn how to do.
I am back in om business after 35 years other things and hobbies. In that time i used a big 5 el.rotary hf beam and worked the whole world with Kenwood and home build stuff. 
Now i build a Ubitx V5 and made some dipoles and end fed wire antennas. I used the Nanova to see how my antennas are end behave. Ibuild a 3.5-7 MHz and 14-21 Mhz dipole and my Nanova told me after installing the dipoles on which freq they have their resonance dip. So i can cut one and can also see what to do with the other one.
Very very good touse and have the Nanova. Without the result would be not so good.
You can find a lot of movies on youtube.  I bough one from Aliex. but
Amazon.de
have them too for a fair price..
Veel succes van Herman Scheper PA0BAB
Herman vanaf z'n IPad.
Op 15 apr. 2020 om 19:11 heeft Rene <
rmvanb@...
> het volgende geschreven:
toggle quoted message

Show quoted text
Hello i am thinking to buy an NanoVna analyzer. Maybe somone has  experience with the Bitx and anayzing his antenna etcetc???
Regards
Rene
Netherlands
---
Rene

A nano VNA is inexpensive enough that I won't work hard to discourage you from buying one.

Let's just say you can build a good antenna for HF without one. An SWR meter can tell us if our antenna is to long or short. Very little inside a ubitx or bitx can be measured with one.

I work as an EE, been a ham for decades. Yes I will get one eventually.  But most hams do well without one. But if you are curious and want to learn, sure, get one.

73 curt wb8yyy
---
Rene
Hello i am thinking to buy an NanoVna analyzer. Maybe somone has  experience with the Bitx and anayzing his antenna etcetc???
Regards
Rene
Netherlands
---
Ted
"I am able to work FT8 RX with Decode, no luck on TX yet. Still analyzing how K8DCEC build is able to do FT8."

With respect, the KD8CEC firmware does not do FT8 itself, any more than it does SSB by itself. The radio, regardless of firmware, will send your sound card's audio tones  pretty nicely if you've got whatever radio-to-computer isolation matters and microphone level input level considerations set up.  I wonder if I might inquire as to what trouble your rig's having - what you're sending the mic input, what you get from it in terms of tx/rx relay switching, any trace reception upon a redundant receiver in the room? 

There are a bunch of smarter people in the room than I, though I'd like to help with them if possible.  And how I wish I was any good at any kind of computer code work; it makes my head explode and that gets messy. Disguise aerials are no problem, so I'll stick to that.





Be safe and well,

Ted
K3RTA
---
vu3gwn
I am able to work FT8 RX with Decode, no luck on TX yet. Still analyzing how K8DCEC build is able to do FT8.
---
vu3gwn
Thought about it and its still an option. Have the patch ready. If Ashhar wants it, I will submit the changes. 
---
He can just submit as a patch. Its not a big deal. But if improvements will be ongoing then I agree, this is a good call out.
---
Re: AJ6CU 5 inch enhanced nextion file question.
To the best of my knowledge, the KD8CEC Nano firmware on the Raduino is based on the uBITX version, type of display, how and what is connected,  and not on the size of the Nextion display.  You should be able to select the file from Dr. Lee's Github page:
https://github.com/phdlee/ubitx/releases/tag/v1.20
Please read the FileNameInfo.txt file in the corresponding zip file that matches your version uBITX to help in picking the correct one.  There are really only 2 versions of Nano code: 1 for pre-v5 uBITX, and 1 for v5 (also works with v6).
73
Evan
AC9TU
---
Thank you for sharing your improvements!

But out of curiosity, why clone instead of fork?  Doesn't that make it harder for Ashhar to merge your improvements back into the stock code?  A "clone" is still a fork anyway, it just breaks the git tools for merging.


---
Hello!  Does the V6 stock firmware enable CAT control for us digital addicts?  Thanks so much as always. 
---
AJ6CU 5 inch enhanced nextion file question.
Could anyone tell me what version of the firmware I need to install in the raduino in order to use AJ6CU,s 5 inch Nextion files?

Sort of learning this Arduino thing as I go along and want to make sure I get it right.

Also a big Thank You to the guys who give so freely of their time and wealth of knowledge to help others. It is much appreciated.

Thanks and you all stay safe and well.    Ian K3HQL
---
Thank-you Karol!  I had not thought to use this module in this way.  I will try it out on my rigs to see how it works for them.

I am glad that you found the problem with your rig.  
73
Evan
AC9TU
---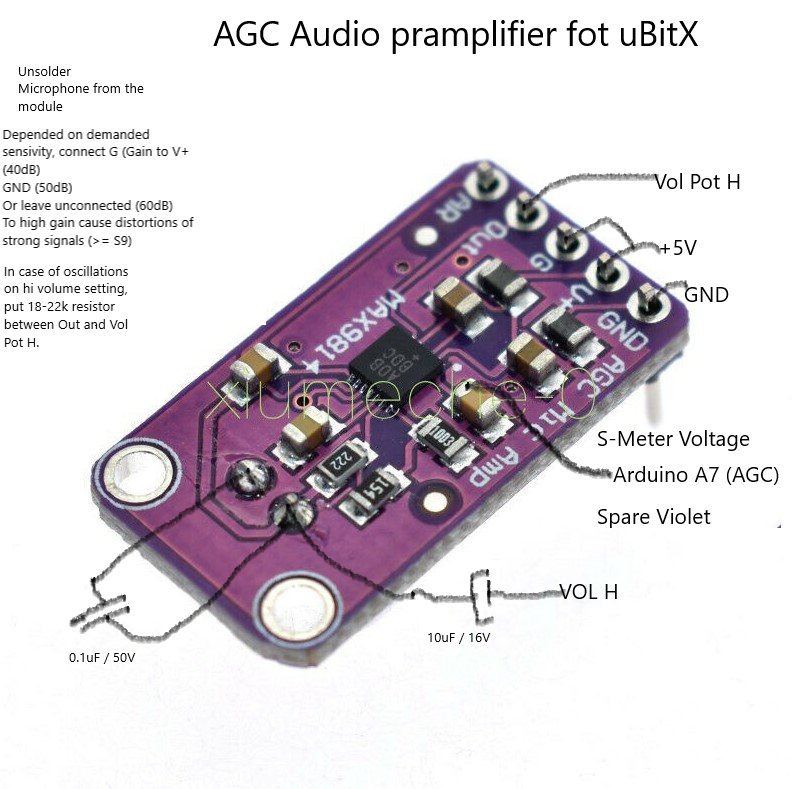 welcome back
The case turned out to be very simple. During tests, the L5 mechanical coil was damaged. The receiver worked but very poorly. I repaired the electrical connections of the coils and additionally glued with hot glue.
I don't know why I didn't think of it before. I had a similar defect after receiving the package.
The modification with MAX9814 significantly improves the volume on higher bands but also works great at 80m or 40m.
Once again, thank you for your support
Best wishes
Karol SQ6POH