Harmonic performance - SSB vs CW
Warren Allgyer <allgyer@...>
I am noting a significant difference in the harmonic suppression in SSB mode versus CW mode. 
The two signals are generated in a very different way. SSB is generated at 45 MHz and mixed down to the final transmit frequency by combining with the first oscillator in the balanced first mixer to make the SSB transmission. In CW the 45 MHz path is disabled and the first oscillator is simply moved to the transmit frequency. The first mixer is unbalanced with a DC bias to allow the first oscillator signal to leak through.
It appears the act of unbalancing this mixer produces harmonics, particularly high order odd harmonics that are clearly in excess of the -43 dBc requirement.
The screenshot shows  the harmonics of an 80 meter transmission at 10 watts. The purple trace is the CW and the blue trace is SSB. Signal source for SSB is a approximately -40 dBV 1 KHz tone with the level adjusted to match the CW carrier level. The SSB signal harmonic suppression is just adequate (green display line) however the CW signal is clearly non-compliant.
I am not sure what to do about it yet but wanted to raise the point. I have done a search on this board since I am new and I do not find this has been reported before..... perhaps I missed it?

WA8TOD


click fix and squeal on transmit #ubitx
Hi -- I have had my v3 ubitx working fine, and thought I would install the T/R click fix version 2 from
http://www.nd6t.com/uBITX/TR%20Click%20Fix.htm
. I'm fairly confident in the circuit I assembled, slightly less confident in the jumpers, trace-cutting, and attachment to the board. The click is still audible in the relay but not in headphones on either transition, and I get a loud squeal on transmit into a dummy load when the volume pot is more than slightly turned up. What should I be looking at to diagnose this?
I noticed continuity between the 12v line and the point marked Rx connection in this section after cutting the trace, which seemed odd: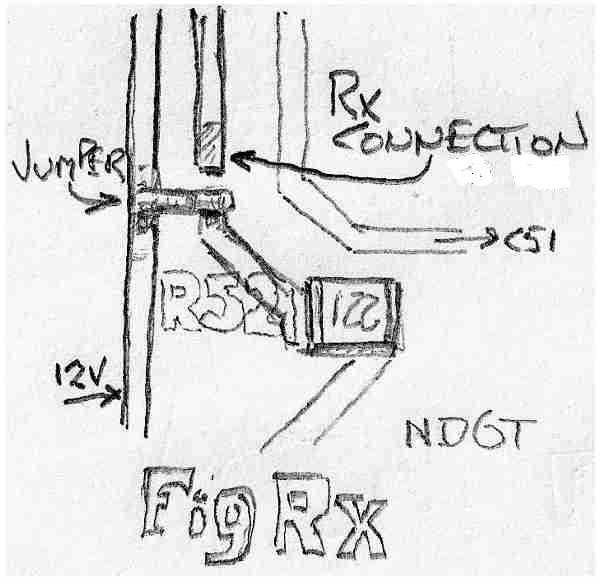 Re: RFI Problem related by routing audio through K3 (uBitx)?
Printed Wiring Board,  a.k.a. circuit board.
Re: ND6T AGC and Click kit wiring notes
Looks very nice Nick, good luck with it.

You might also label the "+" via on the 5V input since we had some confusion there, and the other grounds (audio, etc).

73 Kees K5BCQ
W7PEA
Use the Groups wiki site... 
https://groups.io/g/BITX20/wiki/home  
and make corrections and additions if you feel its needed. 
And what they said, build it vanilla first.
Enjoy, its a fun rig,
W7PEA | Patrick
Mike :

It certainly sounds like RF getting into where it doesn't belong.  End-fed wires are notorious for bringing RF into the shack.

I would suggest trying to put a ferrite choke on the power leads and keeping them as short as possible.
 
Any external wires (PTT, Mic, key, power, headphones) might be acting like an antenna and allowing
RF in where it isn't wanted. 

Is there any way that you can try a different coax fed antenna ? Maybe try the same configuration at a friends place where they 
have different antenna setup ?  That would at least allow you to rule out some internal issue in the radio.  If you can't reproduce the
issue elsewhere with a real antenna on it then it is likely something specific to your use of the end-fed wire and resulting RFI. 

Cheers

Michael VE3WMB 
Re: uBITX HF transceiver and blue MBITX metal case.
Eddie,
            Check this out(from Google)
https://appletoolbox.com/2015/10/how-to-extract-rar-files-on-mac-osx/
7
Sunil Sankaranarayanan VU2MTM
Re: ubitx and case for sale
Timothy Fidler
FET 2N4091 metal case JFET or equivalent. Must be metal case for freq stab.  Bipolars : MPSH 10 or better use  the  BSX-20 which has a FT of 500 Mhz and very low input capacitance c/w 2n2222.  and get rid of the silly 9v regulator chain use an LM 78L09 regulator chip or similar. TEF
EI_Frank
My QTH is the east coast of Ireland, so will be very lucky to receive the 5, 10Mhz WWV transmissions, for Zero Beat calibration, given the propagation conditions lately.
I'll have to tune to a local AM broadcast channel.
Thanks for the suggestion anyway.
EI_Frank
Don't do the Tune Up Calibration unless you absolutely have to.
BITX QSO Afternoon/Evening, Sunday, August 5, 3PM & 7PM Local Time, 7277 kHz in North America, 7177 kHz elsewhere.
John P
BITX QSO Afternoon/Evening, Sunday, August 5, 3PM & 7PM Local Time, 7277 kHz in North America, 7177 kHz elsewhere.
Join us as we make contacts with our BitX-40s or uBitXs or anything else on 7.277 MHz in 40 meters!
This is a worldwide event for BitX40 (and other QRP) stations starting at 3PM and 7pm in each time zone. To participate, call CQ BitX on Sunday, starting at 3PM and/or 7PM your local time. The BitX QSO Night continues through the evening and conditions usually improve after sunset, so it is worthwhile to participate later in the evening.
Suggested Best Operating Practices:
Work at QRP power levels unless conditions require more power.
Call and listen for CQ BITX on the hour and every quarter hour.
It is helpful if you call CQ BITX with your callsign, name and location. 
Repeat your callsign a number of times during your CQ BITX and during QSO's.
Start a QSO by confirming the callsign, location, name and signal report of the other operator.
Say the callsign, name and location of the other operator so others can hear.
If the frequency is busy, avoid long conversations.
After your initial QSO is complete, ask if there are any other stations who would like to contact.
Report your QSO's, discuss propagation, noise, signal reports, audio reports, antenna type, etc. in this thread.
This is an undirected, scheduled event.  The BITX QSO Night relies on you to call CQ BITX to initiate contacts with other stations, so warm up that final and transmit a few calls on Sunday evening.  Talk to you then!
--
John - WA2FZW
Re: Off Topic: Gap Antennas
On Thu, Aug 02, 2018 at 12:25:45PM +0100, Alan de G1FXB via Groups.Io wrote:
There are reports from 3 different EU countries that the site doesn't
resolve there.
If you whois gapantenna.com you'll find they have 3 nameservers set up
Name Server: NS1.VEROSOFT.COM
Name Server: NS1.KEYMANAGED.COM
Name Server: NS2.VEROSOFT.COM
DNSSEC: unsigned
ns1.verosoft.com. 3338 IN A 199.189.195.10
ns1.keymanaged.com. 10469 IN A 50.253.178.50
ns2.verosoft.com. 3307 IN A 199.189.195.11
ping ns1.keymanaged.com
PING ns1.keymanaged.com (50.253.178.50): 56 data bytes
It's dead Jim.
Fortunately the other two nameservers work
gapantenna.com. 1922 IN A 199.189.195.12
My advice (unless you are comfy with making temporary local host changes)
is to restart the browser and hope it catches one of the two working NS
Who wants to try the site from elsewhere, Australasia?

Alan

Diane
--
- db@... db@...
http://www.db.net/~db
Re: Off Topic: Gap Antennas
There are reports from 3 different EU countries that the site doesn't resolve there.
Using a VPN to provide a point of presence within the US does.....
This would indicate it's the source site not the destination(s) that is experiencing difficulties, else there are EU DNS sanctions being applied 
:-P
Who wants to try the site from elsewhere, Australasia?
Alan
toggle quoted message

Show quoted text
Re: ND6T AGC and Click kit wiring notes
Don, ND6T
Go for it, Nick! It seems that there are quite a few looking for some through-hole kits.
Don't forget, this circuit also works the same on BITX40s as well.
GL, - Don
Re: Off Topic: Gap Antennas
hi

do i need to hack the receiver input filter

terry
Allard PE1NWL
Terry,
The latest Raduino sketch v1.28 provides this feature:
Prevention of out-of-band transmissions
The software restricts transmission to the 40m ham band allocation. By default this is ITU region 2 (Americas: 7000-7300 kHz). If you are located in a different ITU region, uncomment ONE of the lines 44-47 depending on your location, and recompile.
If the PTTsense-mod is installed, out-of-band TX will be disabled, but RX is still possible outside the band. If the PTTsense-mod is NOT installed, both TX as well as RX will be disabled outside the band.
Download it from
https://github.com/amunters/bitx40
73 Allard PE1NWL