Field Day - ARRL E Letter
---
Buzz Kutcher - K3GWK
Field Day 2020: Balancing Tradition and Safety in the COVID-19 Era
The fourth full weekend of the month (June 27 - 28) promises to be different for many amateurs, as the annual ARRL Field Day operating event will be held under unique circumstances. Somehow, the traditions of the weekend must be balanced against the exigencies of the current need to operate safely, in an appropriate social-distancing environment. Most groups have had to adjust their plans to ensure that the physical health of their members is protected.
But that's one of the great things about amateur radio in general and Field Day in particular. There is no one single way to approach the event, and no single goal that defines the success of the weekend.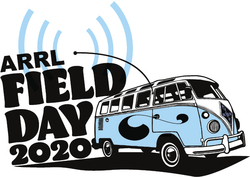 Fun still awaits the tens of thousands of participants. "Business as usual!" for many this year becomes, "How do we address these unique challenges?"
An important fact to recognize is the disappointment many will feel at not being able to congregate at their tried-and-true operating location to do their "usual" thing. Groups in some states face fewer restrictions than others -- and that's okay, as Field Day isn't a competition. Most groups will not be able to host the traditional social aspects of the weekend. The covered-dish extravaganza that accompanies a club Field Day may be canceled this year. The interaction of sharing amateur radio with the general public as they wander over to your setup may be non-existent for many groups. The opportunity to test your club's interface with your various served agencies may have to be put off for another time. Your annual teaching session with local youth groups -- scouts, school clubs, CAP cadets -- may have to be revisited down the road, after the situation stabilizes.
---
Remember: If you operate as a Class D station (home station on commercial power), you may work all other stations, including other Class D stations, for contact credit. All Field Day 2020 entries wishing to have their individual scores credited to their club to be aggregated for a "club score" should add the club name to their summary sheet. Use the Field Day Web Submission Form to turn in your log.
---
Yes, things are going to look and feel different in 2020. But when it comes to the basic activity of Field Day, the event doesn't have to sound different. CW signals will still "light up" the ether. Stations calling "CQ Field Day" on phone will still fill the bands. The unique "warbles" of tried and true -- as well as new and exciting -- digital modes will still beckon the experienced operator and the curious newcomer, inviting them to reach out and make contact in this unique year of social distancing.
Over the past few weeks, several articles have been posted to the ARRL website with some suggestions on how groups and individuals may vary their participation in Field Day 2020 from previous years. The theme running through them is one that's familiar to amateurs -- adaptability.
Read more on the ARRL Field Day web page. -- Thanks to Dan Henderson, N1ND
Field Day

The American Radio Relay League (ARRL) is the national association for amateur radio, connecting hams around the...